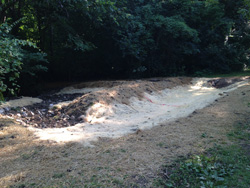 A lot can happen in a week! In the span of seven days this last July, our green-infrastructure project at North Park and Demington in the Upper Doan Brook Gorge was installed and quickly dismantled in a "50-year storm." The initial project design sought to restore 70 feet of eroded stream channel and create a wetland swale to receive 26,200 gallons of stormwater from North Park Blvd. After plan reviews with the City of Cleveland Heights and the project funder, the Northeast Ohio Regional Sewer District (NEORSD), our consulting team, River Works, lined the stream with new cobles and planted the wetland swale with water-loving plants. By July 14, the entire project was complete and ready to filter and slow stormwater received from North Park.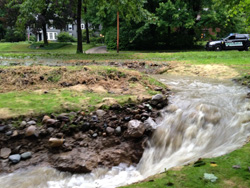 And stormwater it did receive! On July 27, a powerful storm dumped 2.8 inches of rain on the Heights in less than an hour, overwhelming storm sewers and causing all four Shaker Lakes to overtop their dams. Because Lower Lake spills onto to North Park and flows west across Coventry Rd—water was two feet deep in the intersection—the surge of flood water entered Doan Brook via our brand-new green infrastructure. We were gratified to see that the project location was spot on, but disheartened to learn that it's in the path of Lower Lake floodwaters.
The aftermath wasn't pretty, but the project is now repaired and fortified to handle Lower Lake floods. DBWP paid for heavier grade rock and River Works donated man-power to armour the conduit to the Doan Brook. Look for the wetland swale, visible from North Park, as its vegetation is noticeably different than the surrounding grass.
Despite setbacks, DBWP looks forward to installing green infrastructure at any opportunity. According to a study by the Natural Resources Defense Council, major storms — those that dump more than three inches of rain in 24 hours — have increased in frequency in Ohio by 40% in the last 50 years. The increased regularity of strong storms is affecting design standards throughout the country and presents a challenge for infrastructure of all types. Infrastructure built to withstand new weather intensities is one of the great design challenges facing current and future planners.