9th Annual Take to the Lake
When: August 22nd, 2020. 10am-5pm
Where: Lower Shaker Lake

Take to the Lake
Doan Brook Watershed Partnership will host the 9th Annual Take to the Lake on Saturday, August 22th from 10am-5pm. Join us for an afternoon of paddling, guided hikes, yoga, and live music along the banks of historic Lower Shaker Lake. Canoeing on the Shaker Lakes used to be a popular pastime in the first half of the 20th century but public boating is no longer promoted on the lakes.  Take to the Lake gives participants a chance to recreate this recreational atmopshere for a day and to gain a different perspective on the lakes and their place in our watershed community.
On the Lake
For first-time paddlers, Cleveland Metroparks Youth Outdoors offers kayak and canoe lessons that are open to all (at least age 7 and 50 lbs.) and are a good opportunity to learn the basics of paddling while also enjoying some quality time on the lake. We strongly encourage everyone to register in advance in order to guarantee a spot in a class.
Kayak and canoe class times/registration will be available in June/July
Kayak Rentals:
Breakaway Excursions will be offering kayak rentals on the day of the event. This is a great option for experienced paddlers or anyone who wants to be able to spend more time on the lake. Registration will occur at the event and will be first come, first serve.
More details about rentals will be available in June/July
Both the rentals and skills classes include all equipment and life jackets.
Finally, anyone who owns their own kayak, canoe, stand-up paddle board, etc. are free to bring it to the event and launch from the shore. However, anyone taking advantage of this opportunity must ensure that all members of their party have lifejackets.
Everyone out on the lake must have a lifejacket. Additionally, all minors out on the lake must have adult supervision.  We also recommend that participants bring a pair of water shoes or a spare pair of shoes that they do not mind getting wet.
On Shore
If you are a land-lover do not fret – we have activities for you as well!
More details about other activites including hikes and yoga will be available in June/July
Details
Lower Shaker Lake is located off South Park Boulevard east of Coventry Road in Shaker Heights. Street parking is available along South Park.
Checking in at our registration tent is required for all participants, whether bringing personal boats or attending a kayaking/canoeing class or to rent a kayak.
Registration will be available via the form on this page in June/July OR registrants may contact Andrew at 216-325-7781 ext. 6783 or klooster@doanbrookpartnership.org.



Upcoming Events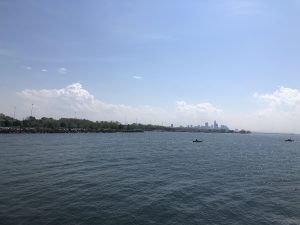 June 13, 2020. 2:00-5:00pm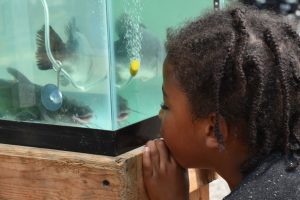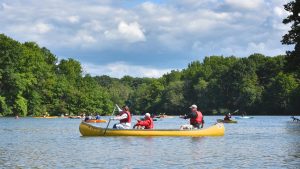 August 22nd, 2020. 10am-5pm
October 10, 2020. 2:00-4:00pm