Area History of the Doan Brook
1796: First permanent settler came to the Cleveland area.
1799: Nathaniel and Sarah Doan and their six children settled beside the Doan Brook. This area became the ford on the main road between Buffalo and Cleveland; now it's the intersection of Euclid Avenue and East 105th Street).
1811: Jacob Russell, a Revolutionary war veteran,  purchased 475 acres of land in the upper Doan Brook watershed. They return the following year to build a cabin, plant crops, and relocate their extended family of 20.  It is now the intersection of South Park Boulevard and Lee Road.
1822: The North Union Shaker Community was started by Ralph Russell, JacobRussell's son, who had become a Shaker. The community, with as many as 300 members, originally occupied the area along Lee Rd. between Shaker Blvd. and South Park. The Shakers built the two Shaker Lakes, Lower Lake and Horseshoe Lake, on Doan Brook to power their sawmills, grist mills and woolen mill.
Early 1880s: Jephtha Wade, William Gordon, John D. Rockefeller, Laura Rockefeller, Nathan Ambler and other philanthropists donated land along Doan Brook to create the line of parks along the stream from Lake Erie to Horseshoe Lake in Shaker Lakes.
The Cleveland Parks Commission built roadways to connect the parks and commissioned architect Charles Schweinfurth to design bridges to carry streetcar lines across the lower park areas. Inner-city Cleveland residents and workers gain access to the parks.
May 1896: In all, almost 44,000 people are reported to have walked or driven along the brook in Rockefeller Park, showing the popularity of the park in this age.
19th Century: Doan's Corners and the North Union Shaker flourished. Much of the surrounding areas became farms and villages, including the Village of Glenville, located near the brook valley between Doan's Corners and Lake Erie.
1900: The Doan Brook watershed began to develop.
1930: Nearly the entire watershed in Shaker Heights, Cleveland Heights and Cleveland was developed.
1960: Citizens opposed and defeated the Clark and Lee Freeways extension plan. The freeway would have paved over Doan Brook and its parks from Lower Shaker Lake to Horseshoe Lake and beyond.
1970: Dike 14-dredge spoil disposal area at the mouth of Doan Brook began to be constructed by the Corps of Engineers.
1974: The cities of Cleveland Heights, Shaker Heights, and Cleveland with interested citizens form the Joint Committee on Doan Brook Watershed.
2000-2001: Partnership Transition Committee of the Joint Committee investigates different structures for the new organization.
2002: Doan Brook Watershed Partnership is formed as a 501 (c) (3) nonprofit organization.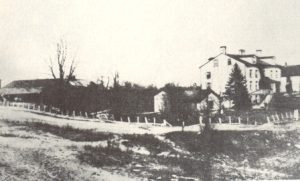 1829 – Shaker Mill Family site, near current North Park and Coventry intersection (courtesy of Shaker Historical Society)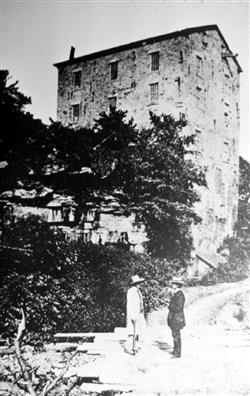 1843 – Shaker stone grist mill in the Doan Brook gorge, just upstream from the current intersection of North Park and Roxboro (courtesy of Shaker Historical Society)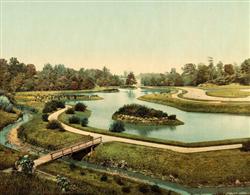 1882 – Wade Park with Doan Brook (courtesy of Shaker Historical Society)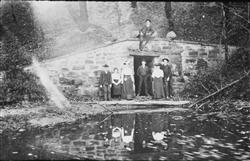 1902 – Horseshoe Lake dam, originally built by the Shakers in 1852, rebuilt around 1895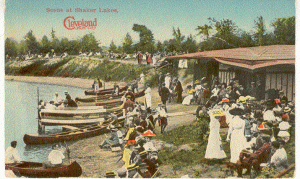 1910 – Boating on Lower Shaker Lake (courtesy of Shaker Historical Society)